Ypsilanti has the third highest percentage of transit commuters in Southeast Michigan, but you wouldn't know that by looking at the status of the Ypsilanti Transit Center. However, the Ann Arbor Area Transit Authority (AAATA) hopes to upgrade facilities in downtown Ypsilanti with a multi-million dollar expansion.
According to data from the Council of Governments of Southeast Michigan (SEMCOG), 8.8% of Ypsilanti residents travel by public transport. In southeast Michigan, only Highland Park and Ann Arbor have higher rates.
"Frankly, it's high time to take a look at the Ypsilanti Transit Center," says AAATA CEO Matt Carpenter. "Terminals are pivots, especially in the spoke and hub system we use at Ypsilanti. Bus terminals that are not big enough can become bottlenecks."
AAATA recently received $300,000 in federal funds to support planning activities for the renovation project, and the total cost of the project is estimated at $16-18 million. AAATA staff plans to totally demolish the current center and rebuild on the same site.
AAATA board member and Ypsilanti resident Jesse Miller said runners who participated in listening sessions before the COVID-19 pandemic "overwhelmingly" said they wanted that the transit center remains in the same place.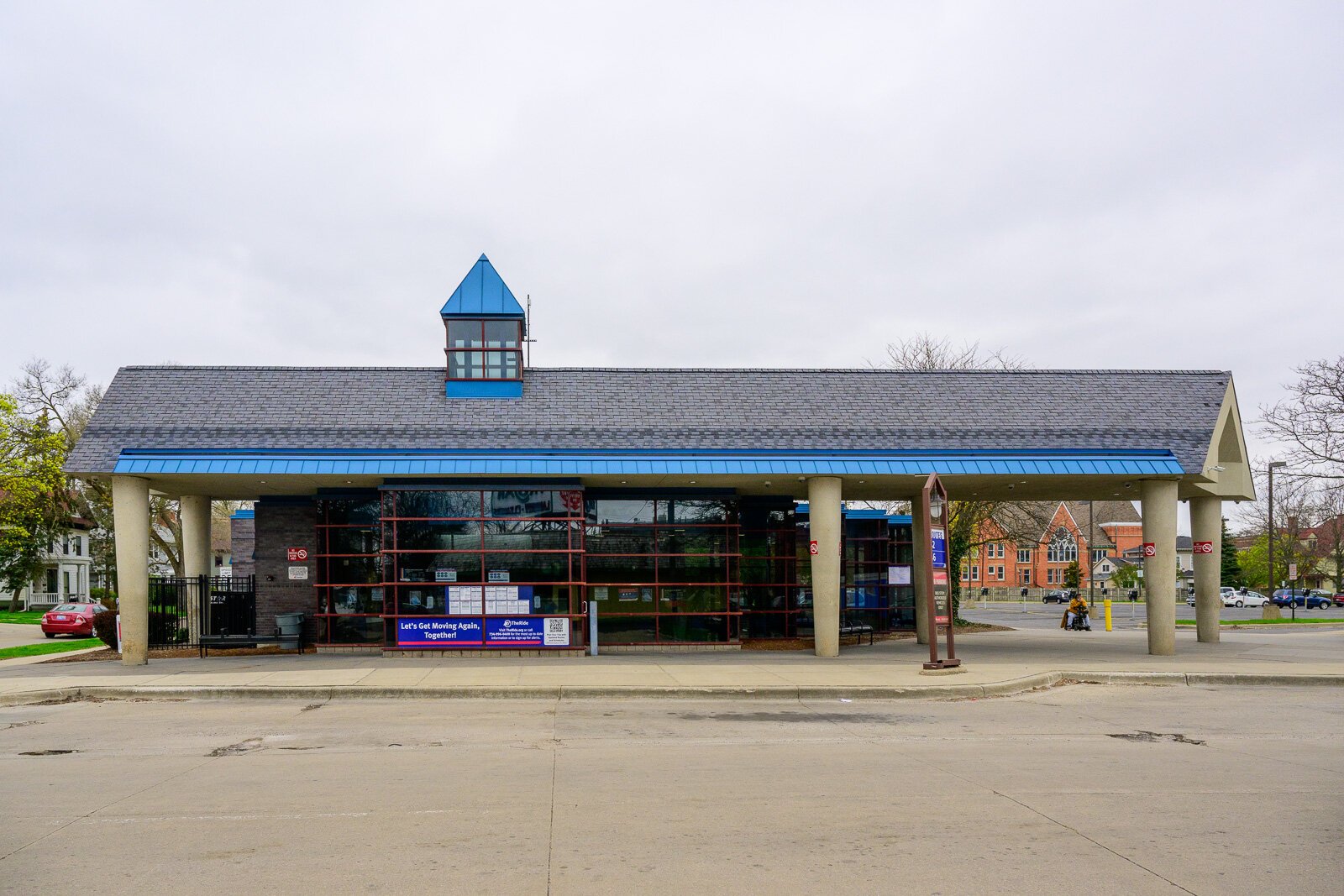 The AAATA Ypsilanti transit center.
"It's right downtown. You have all your stores and restaurants, City Hall and the library. It's a really great location," Miller says.
The whole process of planning, demolition and construction will probably take about five years.
"These projects don't happen overnight," says Carpenter. "It will take many years of planning, lots of discussions with the community and surrounding neighborhoods. We need to make sure this is the kind of infrastructure project that is done in a thoughtful way and in line with community expectations."
AAATA staff will also need to speak to the city's historic commission, complete an environmental study and equity study, and apply for a federal grant before any construction begins. AAATA staff are also considering whether they might need to purchase parcels from adjacent landowners to make the renovation practical.
"We're not 100% sure about that, but if we do, we want to make sure it's done in a fair, just and transparent way," Carpenter said.
The new facility is expected to accommodate more buses and provide a better passenger experience. Carpenter says that during public feedback sessions, many residents asked for improvements in the bathroom, for example.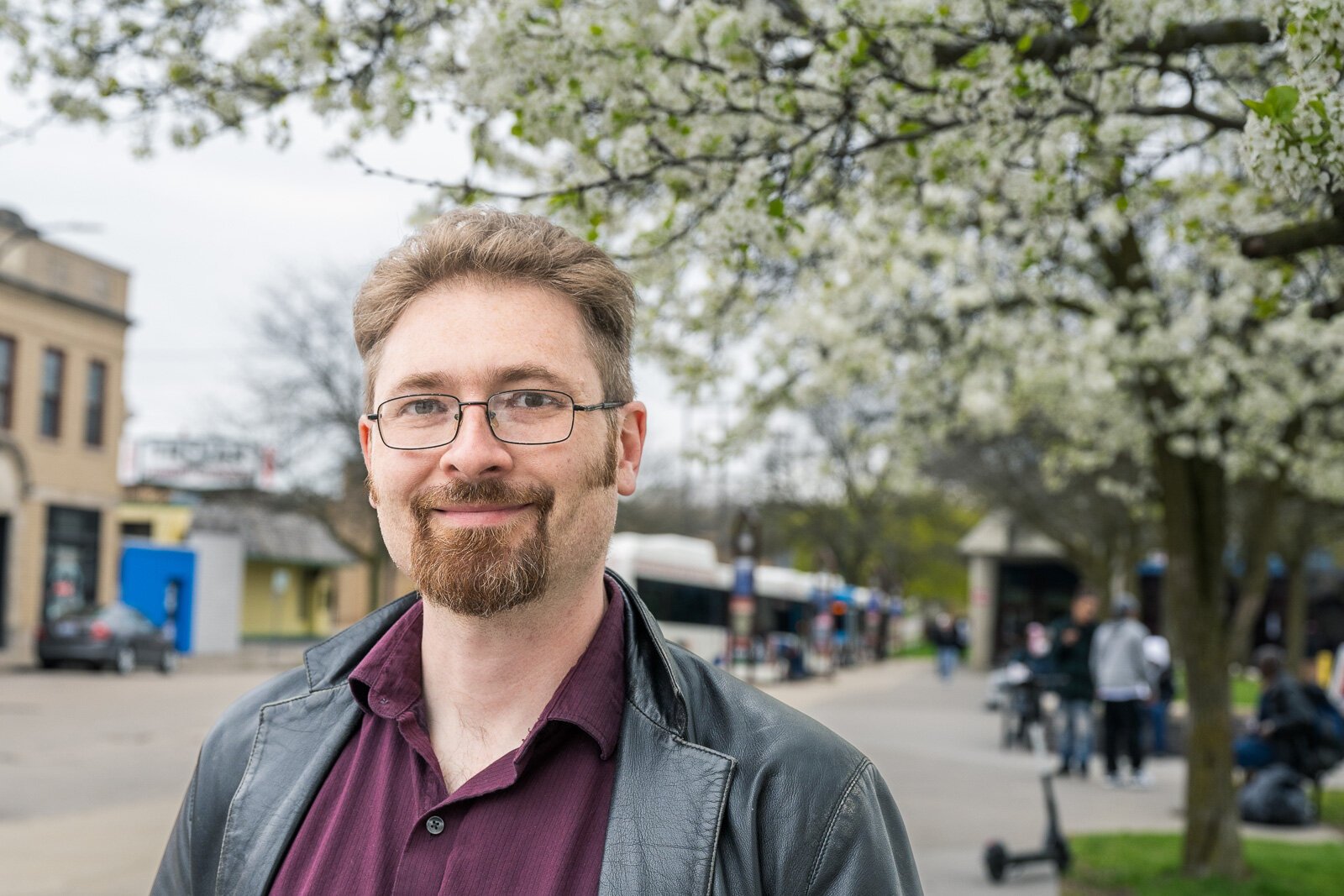 Jesse Miller at the Ypsilanti transit center.
"We need to not only increase the footprint of the facility, but it needs to be done to increase the number of buses that can stop there at any given time," Carpenter said. "But we need more bathrooms, a bigger passenger waiting area and a staff break room. We could do better on all of that."
Miller, who regularly takes the bus to work, says the small size of the Ypsilanti transit center has always bothered him.
"The building itself is rather small and the canopy is not very big," he says. "When it rains, there are a lot of people huddled in a small area. After COVID, it's not just about comfort and personal space, but about health and safety. That's not all simply not enough for the needs of Ypsilanti transit riders."
Desirae Simmons, resident of Ypsilanti and co-director of the Interfaith Council for Peace and Justice (ICPJ), used to take the bus regularly before the pandemic. She followed the AAATA long term planning project, called TheRide 2045, both as a rider and as a community advocate. During the Transit Center planning process, she says she hopes AAATA staff will view the Transit Center as "a place of public information, resources, and community."
"[The current transit center] doesn't have room for flyers or someone who knows what's going on in the community and where the different resources are," she says, whether it's housing assistance, healthcare or connect with attorneys at South Central Michigan Legal Services (LSSCM).
"It should be a place where people can find information, a place for the public good," she says. "Right now, it doesn't feel like a place you would necessarily want to be. It's not really comfortable at all."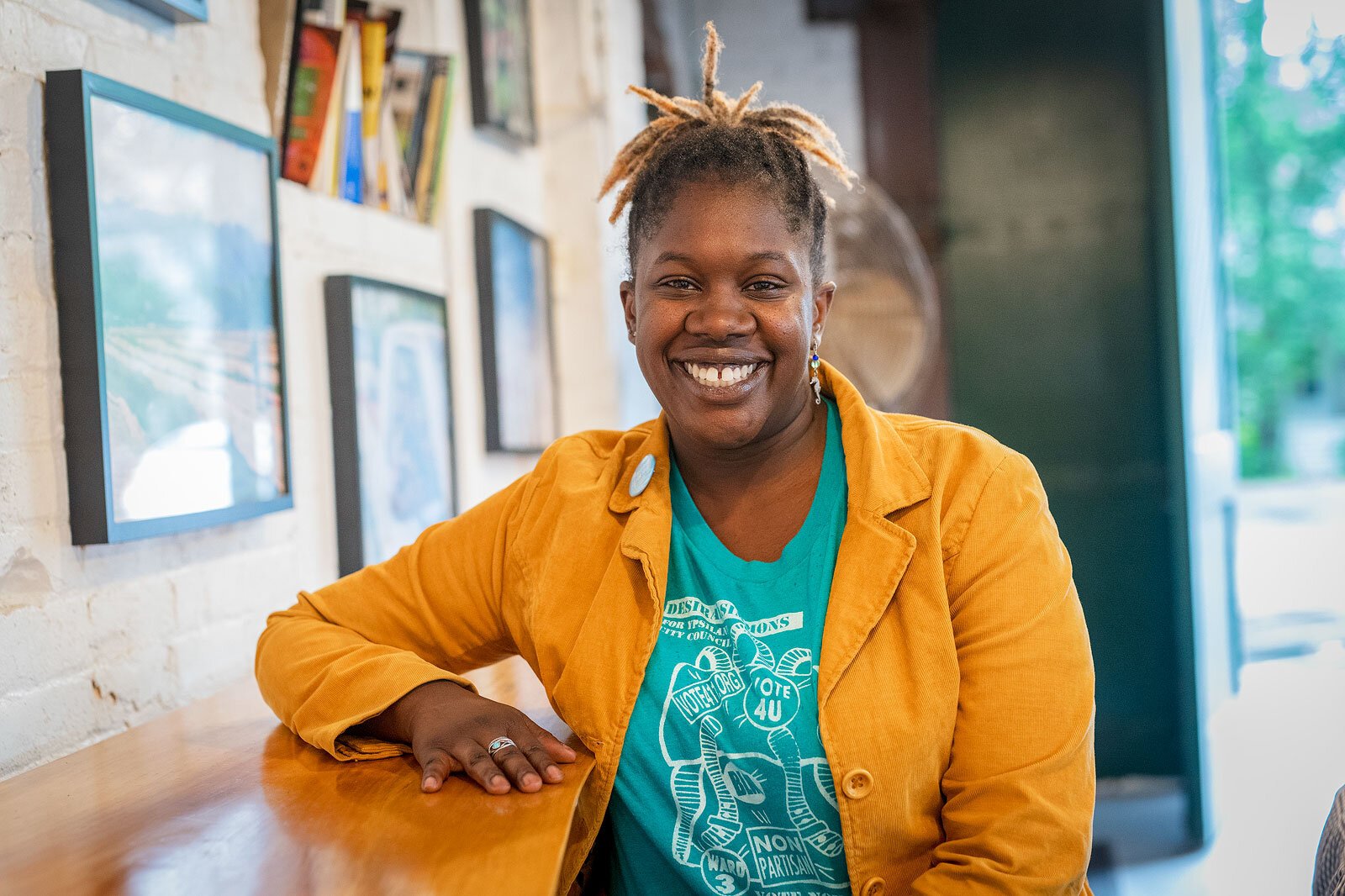 Desirae Simmons
Having a staffed customer service counter is a major consideration for the new transit center. Carpenter says that if a travel mile proposal happens later this year, AAATA may be able to staff the current center by the end of the year or early 2023, well before new construction begins.
"I've been here since 2015, and since my time here, there's never been a staff and there haven't been for many years before that," Carpenter said. "I never got a clear answer on why."
Miller says it's unfair to Ypsilanti runners, especially since the Blake Transit Center in Ann Arbor is staffed.
"Not having a customer service agent at Ypsilanti's service center is a huge accessibility and equity issue," says Miller.
He notes that AAATA offers discounted rates for some disabled or low-income people, as well as bundled rates like weekly or monthly packages.
"These are only available in Ann Arbor at the Blake Transit Center or the South Industrial Operations Center," says Miller. "Anyone in Ypsilanti who wants a discounted rate must travel to Ann Arbor to get it."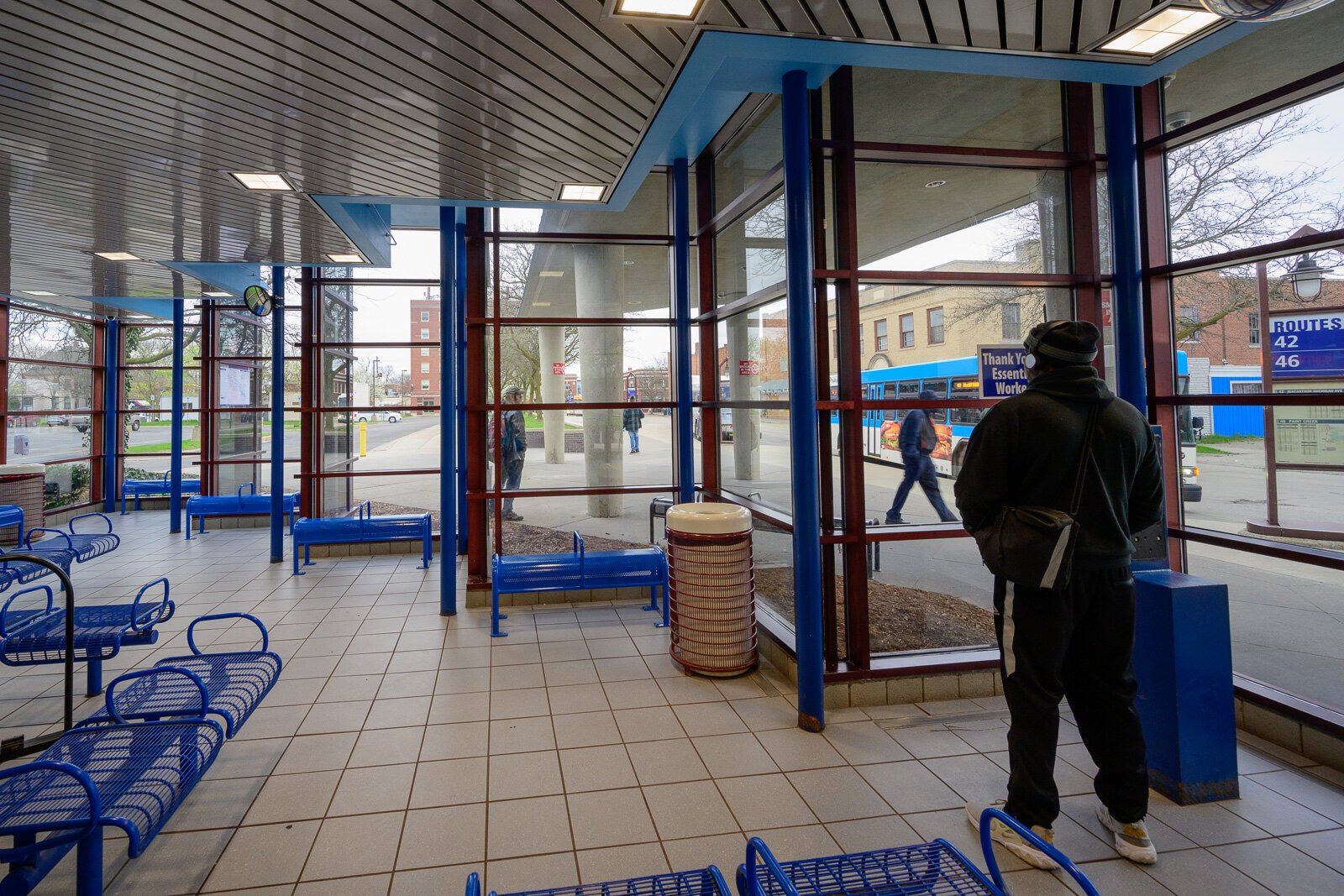 The AAATA Ypsilanti transit center.
However, the disparity of customer service representatives between Ann Arbor and Ypsi is not the only equity issue to consider in the transit center project. Simmons says she and others at the ICPJ encouraged AAATA staff to do a "racial equity screen" on the long-term plan.
AAATA follows federal guidance around fare increases and other changes that require local transit authorities to "assess proposed changes and identify any disparate impact or disproportionate burden" on racial minorities or low-income riders. But Simmons wants to make sure the AAATA board treats a stock-picking process as more than an afterthought or a tick box.
"We wanted them to include that from the start so that [equity considerations] could go into the actual planning," she says. "It would be great if this happened upfront and was transparent to the community.
A round of public engagement has already taken place, but Carpenter says there will be future opportunities to engage in the planning process.
"It's really important to us that this is done with the community, because it's an infrastructure that's going to be there for 40 years," he says. "And at $18 million, it could represent the biggest single investment in downtown Ypsilanti in decades. It has the potential to spark other indirect developments downtown. We want to make sure that the community is on board and we have a chance to hear what they want to see."
Interested residents can keep an eye on the planning and building process, and future opportunities for public participation, by checking AAATA webpage for the Ypsilanti Transit Center project.
Sarah Rigg is a freelance writer and editor in Ypsilanti Township and project manager of On the Ypsilanti field. She joined Concentrate as a news editor in early 2017 and occasionally contributes to other Broadcast Media Group editions. You can reach her at sarahrigg1@gmail.com.
All pictures of Doug Combe.